Meet Deseret Nationalist Athen Joseph Jensen, 26 years old as of this publishing, of Highland, Utah. Athen is an all around bigot, antisemite, homophobe, misogynist, and a huge fan of white nationalism.
Recently, Athen Jensen became part of another DezNat's, Greg Smith's, North Ogden city council campaign team. Be sure to read the end of this article for important action items.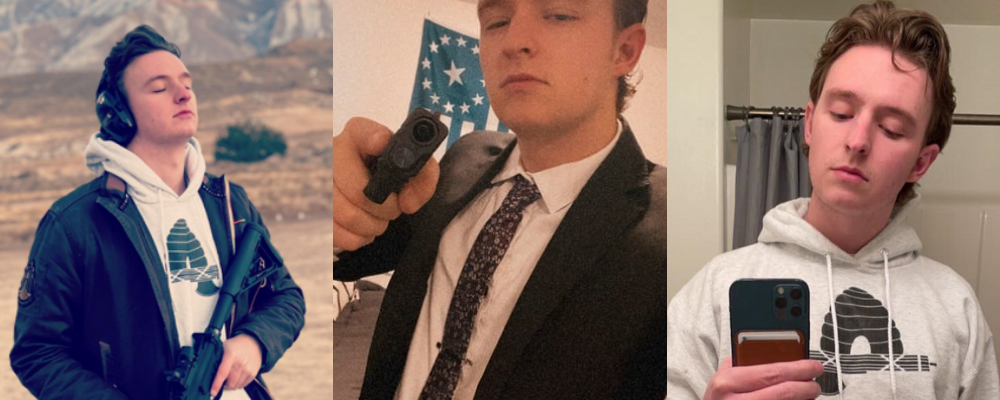 CONTENT WARNING
This article contains racist and misogynistic statements, antisemitism, queerphobia, references to acts of violence, and other objectionable language. We feel it is important to show examples of this person's hateful ideology in his own words, rather than merely describing or characterizing it. In all cases where slurs or other offensive words have letters replaced by asterisks, or have been redacted or obscured in images, those redactions have been added by the authors of this article, not by the person who is being quoted/screencapped.
The stated purpose of Deseret nationalism is to create a Mormon, or Deseretian, ethnostate ruled by a theodemocracy so when we see DezNats getting into politics that is deeply concerning.
Identifying Athen Jensen Of Highland Utah
It was easy to confirm Athen Jensen's ID because of his obvious lack of OPSEC. Going by the display name "Athen," he posted to Twitter a non-public image from his own Facebook account. The profile images from his social media accounts all match. His Twitter handles have included his given first name: athen_77, previously savage_athen.

Athen is friends in real life with other fascist and racist Deseret Nationalists such as "Mond" and Nima Cheraghi. He hangs out with them at various places including barbecues that he hosts at his parents' house in Highland, Utah. These in person events are invitation only.
Note the "dezbollah" hashtag which is a portmanteau of DezNat and Hezbollah. Dezbollah content often incorporates neo-Nazi, fascist, and radical religious symbols, blended with Mormon historic and cultural imagery, into its memes and other artwork.
We were also able to identify Deseret nationalist Athen Jensen by his purple rifle magazine in this IRL meetup of Dezbollah fash.
The flag they are holding up is the DezFash flag. Note the fasces below the beehive. "Deseret" is a Book of Mormon word meaning "honey bee" and beehives are often used in LDS imagery to symbolize "industry" or Deseret.
Athen Jensen is really into the beehive/fasces combo which can be seen as a print on a hoodie his DezNat friend, "Mond", makes.
Athen Jensen Is An Antisemitic DezNat
Athen Jensen likes a variety of Facebook pages including the highly racist and antisemitic page "Bastechef" which comes as no surprise considering Athen is a racist and raging antisemite himself. Note the sonnenrad. The sonnenrad is an ancient European symbol that was appropriated by Nazis in their attempt to invent an idealized "Aryan/Norse" heritage. In Nazi Germany, the Nazi Party, the SA and the SS all used sonnenrad symbology at times, which has led neo-Nazis and other modern white supremacists to adopt such images. Athen did not accidentally like this page.
DezNat Athen Jensen also recommends the Protocols of the Learned Elders of Zion as reading material. The "Protocols" are a well-known fabricated racist and antisemitic text that describes a Jewish plan for global domination. Hitler used the Protocols to justify his hatred of Jews. Hitler also refers to the Protocols in Mein Kampf.
The Protocols also became a part of the Nazi propaganda effort to justify persecution of the Jews. In The Holocaust: The Destruction of European Jewry 1933–1945, Nora Levin states that "Hitler used the Protocols as a manual in his war to exterminate the Jews".
Athen's antisemitism is also prevalent on Twitter.
Athen Jensen Is A Misogynist
Misogyny is a feature of the far right, and so it comes as no surprise that Athen Jensen is also a misogynist. In fact, anti-feminism and the sexist world it creates has become a recruiting ground for potential mass shooters. Jensen, who says social media has turned him into a misogynist, makes references to violence publicly on social media. In a TikTok video he posted to Twitter he can be seen holding a rifle with his identifiable purple magazine. In the video, he includes the caption "Heading back to Cafe Rio for a refund" in a threat presumably because his food was cold. In his Gab profile image, he can be seen pointing a handgun at the viewer.
In May of 2021, Jensen
tweeted a poll
out to his followers asking them if they were to go on a
homicidal rampage
, what kind of music they would listen to. Twenty-three accounts voted in the poll.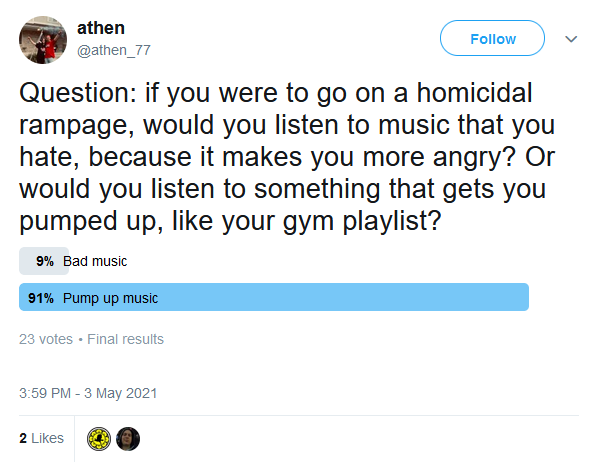 Athen Jensen Of Highland Utah Is Racist
Jensen is known for making racist comments on social media. He has a negative perception of minorities and equates diversity to dirtiness and crime. The notion that Black people are inherently more violent has been used to justify their mistreatment since the abolishment of slavery. The phrase "Black on Black crime" has been used by white supremacists for years. Notice in the 1st screen below that Jensen is replying to Stefan Molyneux, a Canadian far-right white nationalist & white supremacist who is well known for his promotion of conspiracy theories, scientific racism, eugenics, and racist views.
In addition to
using the white supremacist meme "White boy summer"
, Athen Jensen also participated with other Deseret nationalists / DezNats in a racist "N" tower under his previous savage_athen twitter handle: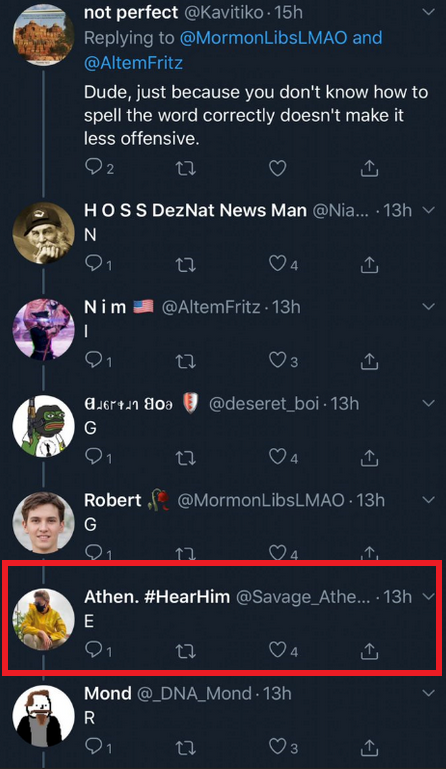 Athen Jensen – Nick Fuentes Fan
Athen Jensen is also a big fan of white nationalist Nick Fuentes who was recently kicked off Twitter after the company came under scrutiny for its role in radicalization by embracing the extreme far-right. Fuentes is a key figure in the "Groyper" movement, a loose network of alt right figures who are vocal supporters of white supremacist and "America First" figure Nick Fuentes.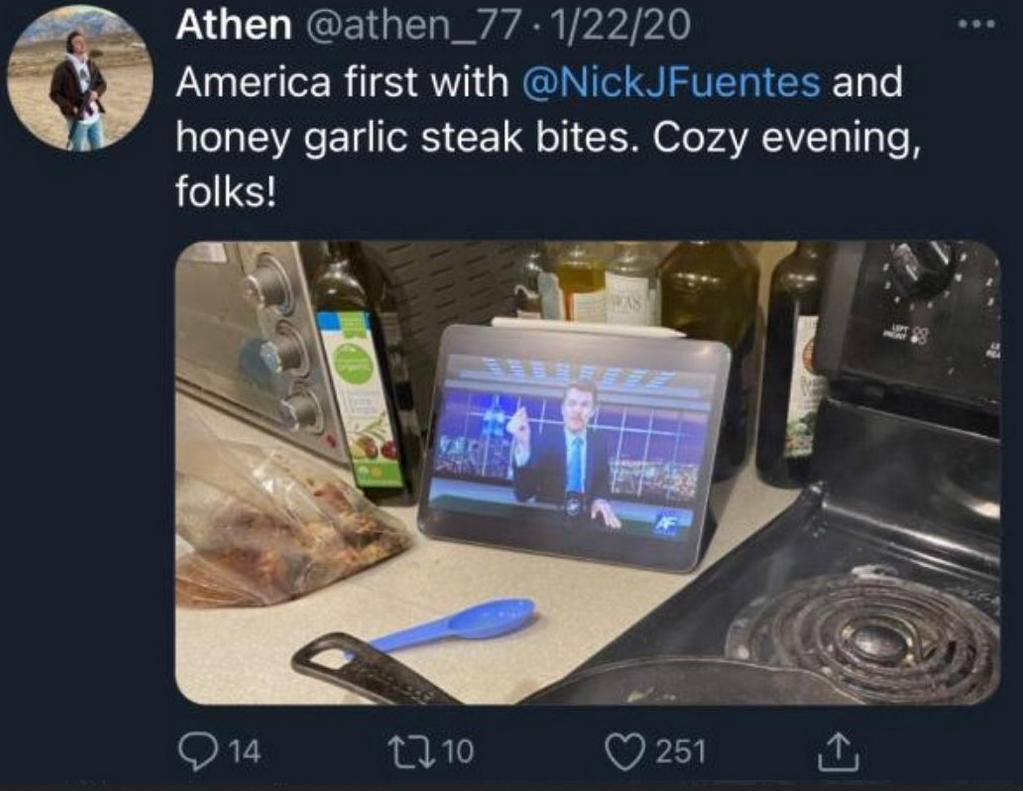 DezNat Athen Jensen Is A Raging Homophobe
The hard-line religious right has made a series of incendiary claims against the LGBTQ+ community. Athen Jensen repeats these harmful anti-LGBTQ+ statements that have been debunked repeatedly. The anti-LGBTQ+ right continues to spread false claims about the queer community in order to deny them rights. Jensen sees LGBTQ+ people as the enemy trying to destroy the United States. He believes "gay marriage is a threat to humanity."
CALL TO ACTIONS
Political
Greg Smith recently put his bid in to run for the North Ogden city council race. Smith, who publishes under several anonymous accounts on Twitter, is a Deseret Nationalist known for his quirky videos, trolling, posting white supremacist memes, and support of extremists. Raging antisemite, misogynist, racist, and homophobic Deseret Nationalist / DezNat Athen Jensen is part of Greg Smith's political campaign team.
Greg knows. Greg doesn't care. Voters in North Ogden, Utah should know this fact.
What You Can Do: Share our expose on Athen Jensen in local groups and by retweeting on Twitter. If you are retweeting, the two following tweets are excellent choices.
Everyone say hello to Deseret Nationalist Athen Joseph Jensen, 26, of Highland, Utah. Athen is an all around bigot, antisemite, homophobe, misogynist, and a huge fan of white nationalism.

Recently, he became part of a DezNat's city council campaign team. #utpol @Ch_JesusChrist pic.twitter.com/pTgDtZYw6H

— DezNat Exposed – Deseret Anti-Fascist Action (@ExposeDezNat) July 14, 2021
and
Raging antisemite, misogynist, racist, and homophobic Deseret Nationalist / DezNat Athen Jensen is also part of @gregforcouncil's political campaign team

Greg knows. Greg doesn't care. Voters in North Ogden, Utah should know this fact. https://t.co/yVBPvFoa1g @standardex #utpol pic.twitter.com/zuFDGVR2Uh

— DezNat Exposed – Deseret Anti-Fascist Action (@ExposeDezNat) July 14, 2021
Employment
Athen Jensen recently got a new job. If you know his current employer, DM or email us: exposedeznat at riseup dot net
We're sure they'd want to know a racist, misogynistic, homophobic, antisemite who threatens businesses online is working for them. Accountability.
COMMUNITY SAFETY ALERT
Athen Jensen frequents VASA, a fitness center. We feel given Jensen's hateful views and online statements referencing violence that he is a danger to women, minorities, and the LGBTQ+ community. We don't know which VASA location he regularly visits, possibly the Orem, Utah location, but you can let VASA know your concerns by politely contacting them on Facebook or Twitter.